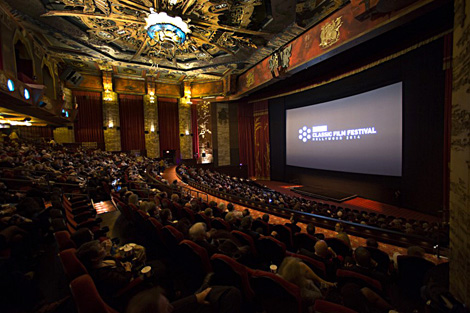 Photo by Mark Hill, courtesy of TCM
TCM Classic Film Festival: Films and More Films!
More than 80 films were shown at the TCM Classic Film Festival in Hollywood, April 10-13, 2014.
Many of the films marked the 75th anniversary of the films of 1939, including Gone With the Wind, The Wizard of Oz, Stagecoach and The Women. The screening of City Lights marked the 100th anniversary of the character of the Tramp, created in 1914 by Charlie Chaplin.
Then, there were were other classics presented as world premiere restorations, including Oklahoma!, A Hard Day's Night, The Good, the Bad and the Ugly, Double Indemnity, Mr. Deeds Goes to Town, The Best Years of Our Lives and Stormy Weather.
Each year, TCM honors a select group of actors and filmmakers whose work represents the highest achievement. This year, the Festival honored the unique contributions of Quincy Jones, Maureen O'Hara, Richard Dreyfuss, Jerry Lewis and Charlton Heston by screening some of their important films: How Green Was My Valley (O'Hara); The Pawnbroker and The Italian Job (Jones); The Goodbye Girl and Mr. Holland's Opus (Dreyfuss); The Nutty Professor (Lewis); and Touch of Evil (Heston).
The films reviewed below are considered by the editor of classicfilmwatch.com to be "Super Special Screenings" for various reasons from an interesting production story to a new musical score for a silent to a re-discovery of a forgotten or rare film.
Touch of Evil (1958)
After Universal-International fired Orson Welles, who was both the screenwriter and director of the film noir, Touch of Evil, he wrote a 58 page memo to the studio's head of production, Edward Muhl, detailing what he thought needed to be done to make the film work. But his advice was unheeded. Instead, new scenes were added during the post production period, but the film remained unmistakably a Welles's picture. Welles's also co-starred in the film with Charlton Heston and Janet Leigh.
Forty years later, in 1998, Rick Schmidlin restored this classic film noir and re-cut it based on Welles's original editing notes in the memo to create what is known as the director's cut. At this year's Festival, a new restoration of the film was shown. Touch of Evil is frequently cited as the last film noir produced during the classic period (1940's-1950s).
Why Worry? (1923)
The silent comedy Why Worry? was Harold Lloyd's last film with producer Hal Roach. It's a hilarious story about an idler and hypochondriac who takes a vacation to Paradiso and takes on a South American Revolution, along with the help of his nurse and Colosso, a giant of a man and new-found friend. There's lots of action and physical comedy.
A feature of the film at the Festival was that composer Carl Davis, who has written a new score for Why Worry?, was present to conduct an 18-piece orchestra to accompany the film. Davis's score was lively and really added to the flow and enjoyment of this silent classic.
The Great Gatsby (1949)
F. Scott Fitzgerald's, The Great Gatsby, a classic of 20th century literature, has been filmed several times, including for television, with the most well-known versions being the ones starring Robert Redford (1974) and Leonardo Dicaprio (2013) as the elusive, mysterious Gatsby. It's a lesser known fact that Alan Ladd played the Jay Gatsby role in a 1949 black and white version. Leave it to TCM to acquire the rights to show this forgotten gem of a film at its Classic Film Festival.
This film has never been shown on television and is not authentically available on DVD. TCM Host Robert Osborne introduced the film saying that he had seen it at a young age when it was first released in theaters. He said it was his favorite film version of the book because Ladd portrayed the Gatsby character closer to Fitzgerald's original conception. He does not believe that any of the female leads in the three versions have portrayed the character, Daisy, very well.
Osborne said that the film did not do well at the box office and was relegated to Paramount's vaults because they intended to re-make it and did so in 1974 with Redford in the lead. More than three decades later, a deal was reached for Warner Brothers to make the Dicaprio version. Each of these versions did not do as well at the box office as expected, so maybe we will see the 1949 version on TCM's network or DVD soon. Osborne said that TCM had legal hurdles to jump to be able to show the film at this year's Festival.
In my opinion, Ladd plays the Gatsby character a little less tragic than Dicaprio's portrayal and is less debonair than Redford in the role. This version contained more about Gatsby's bootlegging and gangster past, with the addition of a right-hand man role played by Elisha Cook, Jr., which gives the black and white film a noir-like quality. In the Ladd version, Gatsby is tougher. In one scene, he knocks out a man from his past who crashes one of his elaborate parties.
I did not like Betty Field's portrayal of Daisy. She was more serious, less shallow than the characterizations in the other versions. Her Daisy just did not exude the persona of someone who could inspire a man to obsessively dedicate his life to creating wealth and changing himself dramatically just so he would fit in with her social position to win her love.
Gatsby's rise from poverty to a millionaire is a subtle allusion to the American ideal that anything is possible regardless of social status. Ladd's tougher, less sophisticated portrayal underscores this.
One thing about watching this 1949 version of The Great Gatsby is that now I am inspired to re-read the book and watch the Redford and Dicaprio films again. There was a silent version starring Walter Baxter and Lois Wilson which was released by Paramount Pictures in 1926. Evidently, they really believed in Fitzgerald's story from the beginning, although the author, who died in 1940, thought he and his works would be forgotten. The silent version is now a lost film and only the trailer survived. It is available to view on the internet.
Hat Check Girl (1932)
I always make it a point to see the film that the Museum of Modern Art (MOMA) brings to the TCM Classic Film Festival because it is always special. This year, film archivist Katie Trainor and film curator Anne Morra of MOMA introduced the recently restored, 1932 film, Hat Check Girl, starring Sally Eilers, and a young Ginger Rogers.
This film has Eilers playing Gerry, a young woman of virtue who is working as a hat check girl in a nightclub to support her family. She refuses to sell liquor or trade in sexual favors like her co-worker, Jessie, played by Rogers. Bootleggers, blackmailers and other criminal elements hang out at the nightclub. It isn't long before Eilers is forced to sell bootleg hooch to avoid a prison sentence and gets caught up in the murder of a blackmailing gossip columnist.
Her boss's depiction as a mobster, along with a brief scene in which she and Rogers undress, were enough to make the film in violation of the 1934 Production Code. This left the pre-code film unseen for decades until its restoration and world premiere at this year's TCM Classic Film Festival.
On Approval (1944)
When I entered the theater to see the rare, little known British comedy of manners film, On Approval, set in the 1890s, I was expecting something along the lines of a Jane Austen story. While her stories were about romance, and often comic, they usually were about women who were dependent on marriage for economic security. Instead, I saw a film where the men were the ones looking to marry women who were more well-heeled than they. On Approval is the story of the escapades of two mis-matched couples sharing a platonic trial marriage to see if they're suited for each other. It is an adaptation of a play by Frederick Lonsdale.
Maria, played by Beatrice Lillie in one of her few film roles, is a widowed woman who is used to getting her way. George, played by Clive Brook, who also produced, adapted and directed this film, plays the 10th Duke of Bristol who is poor despite his title and is used to others taking care of him. He has an equally poor friend, Richard, played by Roland Culver, who is in love with Maria. Helen, played by Googie Withers, is wealthy and in love with George. The two couples go to Maria's island home in Scotland to experiment with a trial marriage on approval.
At first, the film moved a little slow for me until the couples arrived at Maria's home. There, the cook was offended that the women had brought their suitors with them and left in a huff with the other household staff. This left the group fending for themselves instead of living their usual life of privilege. The film was laugh out loud funny in places, and there was plenty of subtle humor as well. The ending is not all that surprising for a romantic comedy. Opposites may attract, but there's something to be said for being alike.
—Mary McCord, Editor
Classic Film Watch