---
2017 TCM Classic Film Festival
Check This Website's Facebook Page April 6-9 for Coverage:

https://www.facebook.com/ClassicFilmWatch
Daily Posts Will Be Made From The Festival in Hollywood.
Additional photos and articles soon will be posted on this website.

TCM 2016 Classic Cruise
Screening great films, presenting important classic stars on their best (last?) voyage.
Photos and article by Mary McCord, Editor, Classic Film Watch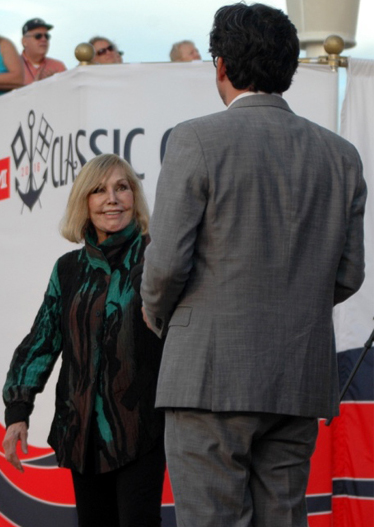 Actress Kim Novak greets TCM Host Ben Mankiewicz at tne Sail Away Party on the 2016 Classic Film Cruise. She later met fans at her exhibit in the ship's art gallery and introduced her films Vertigoand Bell, Book & Candle. She also answered questions during conversations about her life and career..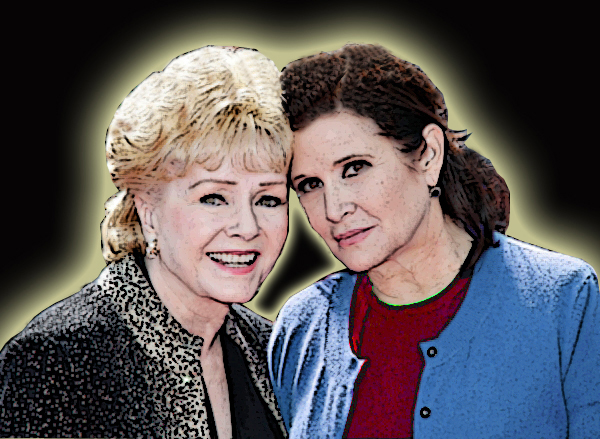 Legendary stars shine brightly through their films and the memories of their many fans.
________________________________________

REMEMBERING
Debbie Reynolds and Carrie Fisher

April 1, 1932 - December 28, 2016 October 21, 1956 - December 27, 2016
________________________________________


Keith Carradine spoke about his varied career on the red carpet. "I do a lot of theater, movies and television, which I love. In terms of genres, I'm happy to now be working on a television series where I'm wearing suits every week because it reminds people that I don't only wear denim and cowboy hats. One of the things I've always strived for is to not be locked into anything. So, I try very hard to mix it up as often as possible. And so far, so good." He will introduce three films: Dark Victory, Love Me Or Leave Me and She Wore
A Yellow Ribbon.
(Photo by Mary McCord
Classic Film Watch.)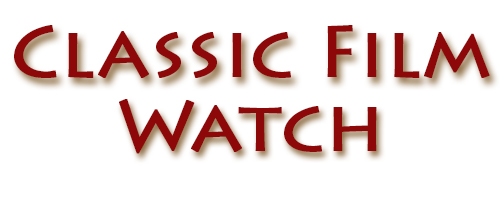 ---
Classic Film Watch Reviews and Articles by Mary McCord
©2017 Classic Film Watch
classicfilmwatch.com is a non-commercial, film review and informational website. All photos or artwork, unless otherwise identified, are either in the public domain or believed to satisfy the four-point criteria of the U.S. copyright law for fair use. No infringement is intended. Photos and artwork are not used for commercial purposes.


TCM Classic Film Festival 2016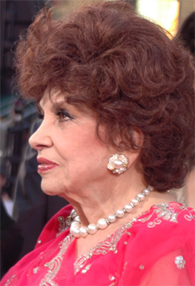 Gina Lollobrigida on the red carpet during opening night festivities at the TCM Classic Film Festival. During the Festival, she will introduce two of her films that are being shown, Trapeze and Buona Sera Mrs. Campbell. TCM will also conduct an hour-long interview with her about her life and career. She is in her second creative career as an artist, sculptress and photographer.
(Photo by Mary McCord,
Classic Film Watch.)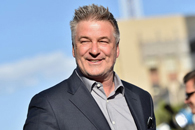 Alec Baldwin attended the premiere of All The Presidet's Men. He later interviewed Angela Lansbury at the instroduction to her film The Manchurian Candidate. (Photo by Mike Windle/Getty Images for Turner)
Birmingham Sidewalk Film Festival 2016
Screens Over 250 Films Including Two
of Interest to Classic Film Fans

Posted by Mary McCord, Editor, 8-30-16
Classic Inspired: Raiders of the Lost Ark,
The Adaptation
When the original Raiders of the Lost Ark premiered in 1981, there were three 12-year-old boys in an audience in Mississippi who were affected for life. Eric Zala, Chris Strompolos and Jayson Lamb loved the film so much that they spent their summers and allowances on remaking the film, shot by shot, recruiting other friends to fill the roles.
It didn't always go smoothly. There were several calamitous events involving fire, but they pressed on. In 1989, they considered the film to be finished except for one scene that was impossible to recreate due to the danger of large, spinning airplane propellers.
Fast forward to 2014 when members of the cast raised money so they could re-unite and film the one scene they were not able to re-create as teenagers. Again, explosions and fire threatened the project, but they pressed on and finished just as their time and money ran out. The scene was added to their 1989 film and Sidewalk Festival goers were treated to this new version.
The film stays true to the original. The kids had to make do with whatever they could come up with for props, costumes and sets. They even had to settle for a dog to play the monkey, since there was a shortage of monkeys in Mississippi. Still, they did a fine job on such a limited budget and it is obvious that they were focused and dedicated to the project.
The actors appear throughout the film at different ages which adds humor. Of course, the airplane scene stands out as being of the highest technical quality. The actors were all in their forties and for the first time, fit the characters they were playing.
Eric Zala, who directed the film and played Belloq, was present to introduce the film. Chris Strompolos played Indiana Jones and Jayson Lamb was the cinematographer.
The film was great fun and the theatre was filled with laughter. It was shown in the Carver Theatre as a double feature along with the documentary, Raiders! The Story of the Greatest Fan Film Ever Made. For more information, check out their website www.raidersguys.com .Click here to read a review of the documentary from last year's Sidewalk.

Retro Film: Stay Hungry
Each year Sidewalk Film Festival selects a retro film for screening. This year, they chose Stay Hungry, a 1976 comedy-drama film set in Birmingham and nearby Alabama locations. Bob Rafelson directed the film and Charles Gaines wrote the screenplay which was adapted from his novel.
A young businessman, Craig Blake (Jeff Bridges), gets involved in a shady real-estate deal. In order to close the deal, he needs to buy a gym building to complete a multi-parcel lot. When he visits the Olympic gym, he finds himself romantically interested in the receptionist (Sally Field) and drawn to the carefree lifestyle of the Austrian body builder "Joe Santo" (Arnold Schwarzenegger) who is training there for the Mr. Universe competition.
Sam Tenenbaum, Jr, The Great Kaiser, was present to help with the introduction of the film and told some amusing stories. Back in 1975, he was wrestling professionally and training at the Olympic gym. While there, he met Arnold Schwarzenegger and was invited to a pool party at the motel where the actors were staying. They were sitting poolside talking when Schwarzenegger asked what name Tenenbaum used as a professional wrestler. At the time, he went by Bob Kaiser "You need something better." Schwarzenegger told Tenenbaum. 'You should put a mask over your head, say you're from Austria like me and call yourself the Great Kaiser.'" Eventually, Tenenbaum followed his advice and has been known as The Great Kaiser ever since. He even wore his mask for the introduction.
Schwarzenegger won a Golden Globe for "Best Acting Debut in a Motion Picture" for his portrayal of Joe Santo in Stay Hungry. This was his first speaking role in a film. He and his co-stars Sally Field and Jeff Bridges went on to bigger and better roles. Other actors in the film who became better known are: Ed Begley, Jr., Joanna Cassidy, Alabama native Fannie Flagg and Robert Englund, best known for playing Freddy Krueger in the Nightmare on Elm Street film series.
Of course, the city of Birmingham, its streets and landmarks, made this film immensely popular with the large audience. For me, my favorite part of the film is when Bridges and Schwarzenegger go to the nearby countryside. Schwarzenegger's character plays a fiddle and jams with a Bluegrass band. It was very entertaining to hear the lively music and watch Bridges' character clog with the best of the country dancers.
Stay Hungry is available on Netflix and Amazon Video. Click Here for more photos and Sidewalk posts.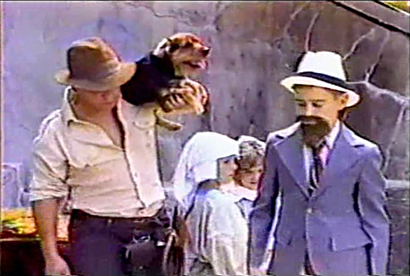 Scene from Raiders of the Lost Ark: The Adaptation. Chris
Strompolos's dog, Snickers, starred in the film as the monkey.

––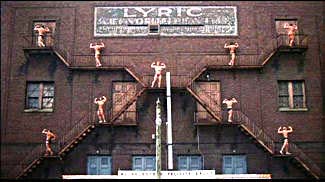 Bodybuilders pose on the Lyric Theatre's fire escape at the end of the 1976 film, Stay Hungry. The old vaudeville theatre was recently renovated and the fire escape is no longer there. The Lyric was built in 1914. Major stars such as the Marx Brothers, Mae West, Sophie Tucker, Will Rogers and Milton Berle played the Lyric. It is now a performing arts center and one of the venues for Sidewalk.

THURSDAY, APRIL 28, 2016
Highlights from the
Red Carpet
at the 40th Anniversary
Screening of
All The
President's Men
TCL Chinese IMAX Theatre
Red Carpet Photos by
Mary McCord
Classic Film Watch Editor
(unless otherwise noted)
TCM Classic Film Festival to open with In The Heat of the Night
Taking place in Hollywood April 6-9, the annual TCM Classic Film Festival will start with a 50th anniversary screening of the Sidney Poiter and Rod Steiger classic, In the Heat of the Night (1967). Poitier will be in attendance, along with Producer Walter Mirisch and Director Norman Jewison, to discuss the making of the five-time AcademyAward winning film that is now considered to be a landmark. Actress Lee Grant and composer Quincy Jones will also be on hand to add to the discussion.
The theme of this year's Festival is Make 'Em Laugh: Comedy in the Movies. During the Festival, there will be tributes to the following industry legends:
Actress Lee Grant will be recognized with a tribute featuring a screening of her debut film Detective Story (1951), along with The Landlord (1970) and a conversation in Club TCM
Actor-director Peter Bogdanovich will be recognized with screenings of The Last Picture Show (1971) and What's Up, Doc? (1972) as well as a conversation in Club TCM
Actresses Debbie Reynolds and Carrie Fisher will be honored with screenings of Singin' In The Rain (1952) and Postcards from the Edge (1990) with family members Todd Fisher and Billie Lourd hosting extended conversations at both screenings
This year's festival will include a multitude of special anniversary films, poolside screenings and talent appearances including:
Mel Brooks on hand to introduce a 40th anniversary screening of his Alfred Hitchcock spoof High Anxiety (1977)
Actor and screenwriter Buck Henry introducing the 50th anniversary world premiere restoration from Rialto Pictures of the influential classic The Graduate (1967)
40th anniversary world premiere restoration from Paramount Pictures screening of Saturday Night Fever (1977) including apperances by director John Badham and actress Donna Pescow
75th anniversary screening of the Oscar® winning classic Casablanca (1942)
Opening night poolside screening at Roosevelt Hotel featuring Willy Wonka & The Chocolate Factory (1971)
Find out more information at TCM's Classic Film Festival website: http://filmfestival.tcm.com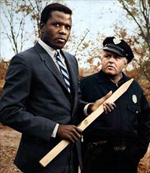 Sidney Poitier and Rod Steiger
TCM Festival Theme
Make 'Em Laugh:
Comedy in the Movies

"A day without laughter is a day wasted."
—Charlie Chaplin

Actor Michael York was one of the stars on the TCM Cruise. He introduced his film, Cabaret.

Miz Eliizabeth, lead singer of The Hot Sardines, plays a washboard at the cruise Sail Away Party.
TCM presented the ultimate classic film cruise combining star attractions—films and many of the actors and actresses who made them—with live entertainment, events, activities, contests, impressive ports of call (Puerto Rico, St. Maarten) and wonderful cuisine aboard the Disney Cruise Ship, Fantasy. There was literally something for everyone.
The stars, who introduced their films and participated in conversations about their lives and careers, were: Leslie Caron (Gigi), Michael York (Cabaret), Jerry Lewis (The Nutty Professor), Kim Novak (Vertigo) and Diane Baker (Straight Jacket). Baker also taught Acting 101.
Other special guests were: Dick Cavett (excerpts from the Dick Cavett Show); Alex Trebek (film trivia contest); Lucie Arnaz (nightclub show and introduced her parents' film, Lucille Ball and Desi Arnaz, The Long, Long Trailer); Craig Barron and Ben Burtt (talked about visual effects and sound design); Illeana Douglas (interviewed the stars); Scott Eyman (writer who spoke about John Wayne and John Ford); Bruce Goldstein (film trivia); Suzanne Lloyd (grand-daughter of Harold Lloyd introduced his silent film Why Worry?); Eddie Muller (introduced several film noirs); Randy Haberkamp (Managing Director of Preservation and Foundation Programs for the Academy of Motion Picture Arts and Sciences); The Hot Sardines and Jennifer Keith (live entertainment).
I saw many of my favorite films from all genres and was very happy to see these gems while cruising in the turquoise waters of the Caribbean. There was one rare film I had never seen before, No Orchids for Miss Blandish, a controversial British thriller/film noir set in post-war times. I also listened to conversations with the stars, took dance lessons and went sight-seeing. To see photos of Old San Juan and both the Dutch and French sides of St. Maarten/St. Martin, Click here .
Even though this cruise was billed as the final TCM Classic Cruise, a petition to reinstate the cruise in the future was passed around the ship. Of course, I signed it.
—Mary McCord, Editor
Classic Film Watch
L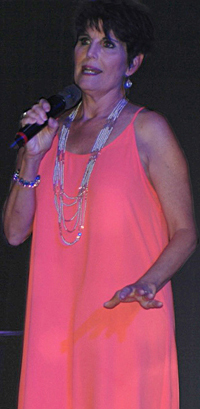 Lucie Arnaz, singer and actress, brought her nightclub act to the cruise, entertaining TCM fans with song and anecdotes about her life.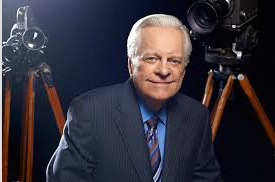 ROBERT OSBORNE
May 3, 1932 - March 6, 2017

REMEMBERING ROBERT OSBORNE

Robert Osborne, Turner Classic Movies (TCM) host for more than 20 years, will be remembered for his love of classic films and his deep respect for the fans. Even though his presence on the network was missing for most of this past year, his fans still remained hopeful to see him again and hear his film introductions interspersed with facts, trivia and sometimes even first-hand stories. He seemed to like all film genres and the directors and stars who made them. His understanding of the TCM audience was evident. He knew that fans liked classic films for many reasons, the least of which was to merely pass the time. He was a film historian and author who was also dedicated to film preservation.
To honor Robert Osborne, TCM plans a 48-hour tribute showing many of his interviews with stars and filmmakers at the annual TCM Festivals. There will also be a special screening of the TCM 20th Anniversary Celebration at the 2014 Festival that honored Osborne's contributions to the TCM network. Tune in to TCM Saturday and Sunday, March 18-19, for this special tribute.