Invincible Czars extend tour to perform their original
score for the silent film, The Wind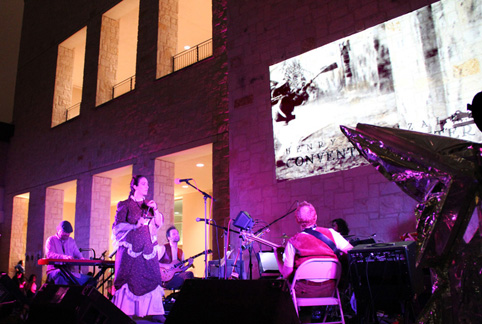 The Invincible Czars had such a successful tour performing their original, new score for the silent film, The Wind, that they have decided to extend it, adding more dates.
The band performed during screenings of The Wind at various venues in several states, including the Crescent Theater in Mobile, AL. They also performed at screenings in New Orleans, LA, Hattiesburg, MS and various Texas cities.
The Bullock Texas State History Museum commissioned The Invincible Czars to score The Wind for a showing during the museum's 2013 celebration of women shaping Texas in the 20th century. This 1928 silent film stars Lillian Gish and is based on the novel of the same name by Dorothy Scarborough. It is set in the 1880s in windy Sweetwater, TX. The Wind is scored for only four Czars with guitar, bass, violin and woodwinds.
The Invincible Czars play their original score during an outdoor screening of a silent film in San Antonio, TX.
The Invincible Czars began creating their own scores for early 20th century films in 2006. Since 2009, the band has added a new film to its catalog each year. Other films with their original scores are: Aelita, Queen of Mars (1924); Destiny (1921); The Unknown (1927); Dr. Jekyll and Mr. Hyde (1920); and Martyrs of the Alamo. They have accompanied the silent films, performing at Bullock Texas State History Museum (Austin), Alamo Drafthouse (Austin, Houston), Crescent Theater (Mobile), Zeitgeist Multi-Disciplinary Arts Center (New Orleans) and Luminaria Festival (San Antonio). The band typically dresses in a fashion of the times portrayed in the films.
WATCH FOR DATES AND TIMES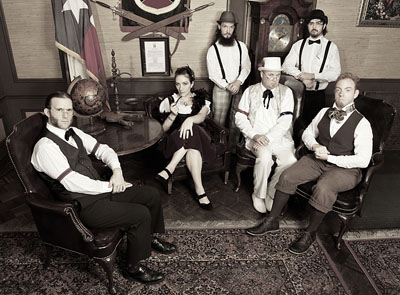 The Invincible Czars in full costume for one of their silent film performances.