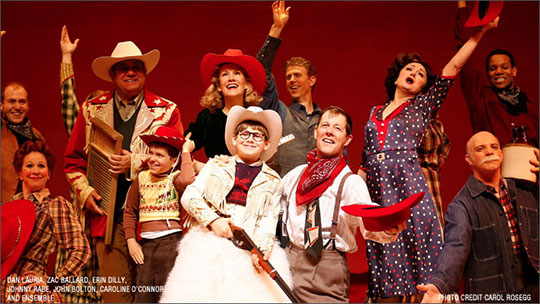 A Christmas Story, The Musical
Successful Screen-to-Stage Adaptation
(Tony-Nominated Best New Musical in 2013)
On Tour 2013 Holiday Season

Despite its title, A Christmas Story, the Musical, is not just a
Christmas show," Louise Beard, one of the producers, said.
"It is a show about families and the struggle to get through life.
It's about a frantic father trying to prove himself and the mother
trying to be the calm glue that keeps her family emotionally and
physically healthy--and together. It's also about the two brothers
in their different stages of life, each with their own wants and
needs."
A lively musical score and tap numbers have been added to the basic storyline of A Christmas Story. "The tap dancing evolved because we found a child, Luke Spring, who was a tap wonder," Beard said. "The opening of the second act was re-staged to showcase him. He will be in the ensemble cast again this year," she added.
"The kids in the Broadway production were totally amazing—professional, polite, talented and adorable." Beard said. Long sessions of auditions were held in New York City with most of the casting accomplished during the Spring and Summer of 2012. Rehearsals began that Fall.
Other than the addition of music and dancing, Beard said they tried to keep all of the popular, humorous scenes found in the film that people love. Playgoers will be entertained with numbers centered around the Red Ryder BB Gun, the Major Award Leg Lamp, Ralphie's mouth being washed out with soap, Chinese Food on Christmas after the Bumpus hounds devour the turkey, and more.
A Christmas Story, The Musical is on tour this holiday season, opening in Hartford, CT on November 12, then traveling to Boston, and New York. Returning cast members are: Dan Lauria (Jean Shepherd); John Bolton (The Old Man); and Erin Dilly (Mother). Jake Lucas is the new Ralphie.The original Broadway director, John Rando, and choreographer, Warren Carlyle, are part of the creative team. Peter Billingsley, who was the original "Ralphie" in the movie, is now one of the producers of A Christmas Story, The Musical.
As an above the title producer, Beard was responsible for raising a set amount of money for the production. "I also was involved in some of the marketing meetings and rehearsals," she said.
Beard is working on several projects for the future and hopes to be able to announce them soon.

A Christmas Story, The Musical, Timeline
2009: Opened in Kansas City.
2010: Composer Benj Pasek (Smash, Dogfight) came on board, joining composer Justin Paul;
Played in Seattle, for two months at the Fifth Avenue Theatre.
2011: On Tour in Raleigh, Hershey, Tampa, Detroit and Chicago.
2012: Opened on Broadway in November and December at the Lunt Fontanne Theatre.
2013: Received three Tony Award nominations—Best New Musical, Best Score and Best Book
of a Musical which was written by Joseph Robinette.

2013: Holiday Season On Tour
The Bushnell, Hartford, CT; Nov. 12-17
Citi Performing Arts Center Wang Theatre, Boston, Nov. 20-Dec. 8
The Theater at Madison Square Garden, Dec. 11-29.
_________________________________________
For more information about A Christmas Story, The Musical,
to view photos and watch short videos concerning the production, go to:
http://achristmasstorythemusical.com
Be sure and watch the second video in the website's line-up, titled "A Christmas Story B Roll" found under the "Media" tab. It is an immensely entertaining glimpse
at the major numbers performed in the musical.
_________________________________________
About Louise Beard:

Before becoming a producer of plays, Louise, owned Time Step Studio in Birmingham, AL where she taught adult tap dancing for 29 years. Each year, she choreographed, directed and produced elaborate tap shows. I was one of her students who benefited from her love of dance and dedication to her art. She was so committed to her students that, when she retired in 2008, she arranged with Alabama Ballet to take over her classes. She is such an inspiration to me and an example that re-invention is possible at any stage of life. After only four years in her new career, she became an extremely successful producer of A Christmas Story, The Musical which was nominated for the Best New Musical Tony Award this year. Totally inspiring!
—Mary McCord, Editor