Borgnine is shown presenting his scripts to the University of North Alabama on December 17, 1999. (l-r) Borgnine, Dr. Garry Warren (Dean of Information Technologies), George Lindsey (UNA alumni and friend) and Dr. Robert L. Potts (UNA President).
(P
hoto Credit: Phillip Oliver, Collier Library, UNA.)
While researching other matters on the Internet, I recently discovered that the Collier Library Archives at the University of North Alabama (UNA) in Florence is home for the personal collection of actor George S. Lindsey known for his role as "Goober" on The Andy Griffith Show. That wasn't surprising. Lindsey was a native of Jasper, Alabama and graduated from UNA in 1952 when the college was known as Florence State Teachers College. But, it was surprising to discover that the Archives also hold the personal script collection of actor Ernest Borgnine, a native of Hamden, Connecticut. I was not aware of either of these collections and wanted to share this information with classicfilmwatch.com readers.

UNA Archivist Louise Huddleston told me that Lindsey and Borgnine were close friends. Lindsey, who held an honorary doctor of humane letters degree from UNA, helped establish the George Lindsey/University of North Alabama Television and Film Festival in 1998. It is an annual event that provides young filmmakers the opportunity to show their work and learn more about the filmmaking industry. Because of their friendship, Lindsey was instrumental in arranging Borgnine's participation in this festival.

Borgnine's fondness for the University and its students prompted him to donate his scripts to UNA in December, 1999 so that they could be studied by future film students. "He said he didn't want his scripts to be locked away somewhere. He wanted everyone to have access to them," Huddleston said.

Lindsey's collection is made up of more than 2,000 items, including plaques and awards, personal memorabilia, photographs and scripts. The collection contains the original scripts from the television series The Andy Griffith Show and Mayberry R.F.D. In addition, there are scripts from most of the television shows and movies where he appeared, such as Gunsmoke, The Alfred Hitchcock Hour and the Walt Disney Show. Lindsey's first movie was Ensign Pulver in 1964 and his last film was When I Find The Ocean in 20006.
Borgnine's collection contains the original, leather-bound scripts for more than 100 movies and numerous television shows from 1949 to 2011. Included in the collection, is the script for the screen adaptation of Marty which earned Borgnine an Academy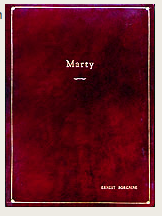 Ernest Borgnine's personal script
for the movie Marty.
(Photo Courtesy of UNA Archives)
Award for Best Actor in 1955. Among the other scripts in the collection are those for From Here To Eternity (1953), The Dirty Dozen (1967), The Wild Bunch (1969) and The Poseidon Adventure (1972). There are also copies of his McHale's Navy TV scripts, as well as those from his performance as the voice of "Mermaid Man" in the Sponge Bob series.

Both Lindsey and Borgnine were still active in their careers, making appearances until their deaths in 2012, within two months of each other. Lindsey was 83 and Borgnine, 95.
For more information, visit the UNA's website:
http://www.una.edu/library/collections
Note: The UNA Collier Library Archives Department is open to the public, excluding weekends. Dates and times may vary according to holidays and the school year. To verify dates and hours, contact the Archives Department at (256) 765-4226.